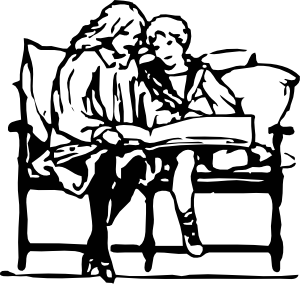 We know that reading aloud to a child is the single most important thing a parent can do to help the child prepare for reading and learning (Becoming a Nation of Readers, 1985).  Reading aloud to children has a host of benefits.
Even older children benefit from parents reading aloud to them.  The Read Aloud Handbook, 7th Edition by Jim Trelease has terrific tips for successful reading aloud to kids. 
One of the things that parents can do to help their struggling reader is to read to them every day. While reading aloud to a child is not likely to be sufficient for overcoming a reading disorder, it is sure to help in important ways. For example, research has shown that if children pronounce an unfamiliar word out loud they are more likely to remember its meanings and spelling structure (Rosenthal and Ehri, 2011). But opportunities to pronounce new words aloud can be limited in classrooms. (Picture a class of 24 students all pronouncing new words at the same time!)
Don't miss the opportunity to read aloud to your child every day and to get your child talking about the books. Nothing in your child's education is more important!
References
Rosenthal, J., Ehri, L.C. (2011). Pronouncing new words aloud during the silent reading of text enhances fifth graders' memory for vocabulary words and their spellings. Reading and Writing, 24, 921-950.